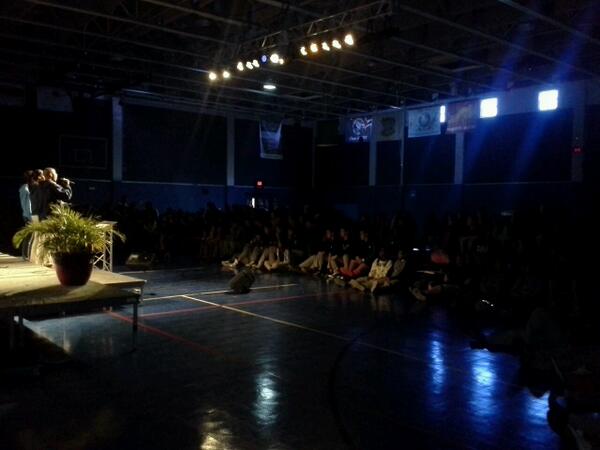 School Profile- Greater Miami Academy
This week I had the privilege of being the speaker for the GMA spring week of prayer. This week of prayer was different from others I have done, because the chaplain asked me to make it more specific in the evangelistic aspect.  Pastor Alvin Payne is the chaplain, and here are some take aways from the week that can help you in youth ministry and Christian education:
1. Intentionally evangelistic.
Frankly, I am tired of just doing events, talks and programs that do not advance the kingdom and only makes people spiritually obese. We have churches full of seminar junkies. Where did they get the idea that Christianity of more about beliefs you hold than a transformation you experience? Many times it has been by the type of youth ministry we have done.
Any youth activity, I believe, should have the following five elements:
a. Intensely interesting. Interesting and deep (or spiritual) are not mutually exclusive. Humorless and spiritual are not the same. Our job is not to make the Bible relevant, but to show its relevance.
b. Purposeful. What's the desired outcome? How does it fit in the overall plan of discipleship?
c. Excellent. It starts and ends on time, the elements flow and you can see that thought was put into the planning.
d. Evangelistic. It's amazing what happens when you call people to cross the line. A message without a call, it's like a meal, served, without being able to eat it. Last year 19 kids said yes and were baptized. This year several more made the same commitment.
One of the family members of the kids that were being baptized today, when the call was made, decided that her decision could not wait and decided to be baptized then and there. You never know who is listening, that's why you ALWAYS make a call even if you think no one will come up. One thing I have learned after 22 years making calls is this: Don't say no to yourself. Make the call. Let God take care of the results.
Take away- plan, purpose, preach, persuade.
2. Empowering worship.
One trait I am seeing in healthy schools is a high level of involvement from the students in not just running the program but crafting it. Pastor Payne has developed several praise teams (it's even a class) and you could tell that the people leading worship were not just singers, but worshipers. (there is a difference).  One frustration I felt in Spanish churches when I was a pastor was the scarcity of musicians. I had a 700 member church and ONE piano player. The pastor that followed me started a music school and now several of those kids are part of the praise team. GMA is doing this well.
Take away: invest in teaching young people to play, sing, lead worship.
Let's continue to pray for all of our schools. Christian education: it's worth it.