Three things you must do here now, to get there later.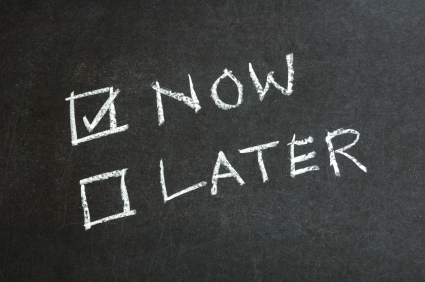 Philipians 3:12 I don't mean to say that I have already achieved these things or that I have already reached perfection. But I press on to possess that perfection for which Christ Jesus first possessed me. 13 No, dear brothers and sisters, I have not achieved it,but I focus on this one thing: Forgetting the past and looking forward to what lies ahead, 14 I press on to reach the end of the race and receive the heavenly prize for which God, through Christ Jesus, is calling us.
 Paul tells us three things:
1. You must start.
Two principles are clearly established:
1. Start, even without perfect conditions. He says "I'm not perfect". You dont need to be either. People that wait their whole lifetimes for conditions to change before starting, often never do. 
2. Do it now! Repeat that phrase 50 times when you wake up in the morning. The best time to start, is now.

Paul urges us to stop living in the past. That includes forgiveness for past offenses. As we consider the topic of forgivess, we are encouraged to forgive and
love everyone, but not trust everyone. Forgiveness does not mean reconection. Now, how do you know if you have forgiven?:
1.The focus of your life is forward. You learn from the past hurts, but dont live there. 
2. You understand that you will forever see the scars, but it does not affect your state of mind. The pain is gone, though the scars remain.
3. You are able to use what happened to you, to help others.
3. You must stay. 
Paul encourages the readers to stay on the path they have begun. Winners never quit and quitters dont often win. Vince Lombardi puts it this way: Once you learn to quit, it becomes a habit.

As you look at your life, the decisions you are making, and the choices that define you, think about one key question:
Is it worth it? That will help you to f
ocus on the prize, not the process.
May you have a great 2013.